After almost a year of being on the market, iRobot's flagship robot vacuum, the iRobot Roomba 780 is going to be available from mega retail site Amazon.com. Currently Amazon is selling the 780 at a discounted price, over $100 cheaper than you can get it from iRobot themselves, and it is available with free shipping, of course. The 700 Series Roombas went on sale in May of 2011. For a long time, the Roomba 760 has been available from Amazon, but not the 780 or the 770. As of this writing, the 770 is still not available.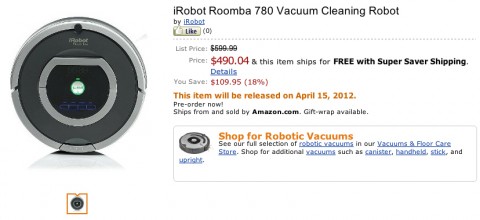 About the Roomba 780
As noted on the Amazon product page, the Roomba 780 features a new cleaning head, which does a better job of picking up debris like dirt, dust, hair, and pet dander. The vacuum comes with HEPA filters, which capture smaller dust and pollen particles and so makes the Roomba friendly to people who suffer from allergies. The 780 comes with on-board scheduling, a remote control, and new power management so that the robot has a longer battery life. The great thing about onboard scheduling, is that you program the robot to clean the house when you're gone. Programming the Roomba is done using the new touchpad control which is built into the top surface of the robot, which is actually quite slick.
What comes in the box: the robot itself, 1 battery, 2 AeroVac Series 2 HEPA filters, 1 bristle brush, 1 side brush, 1 beater brush. a self-charging home base for the robot, power supply, IR remote control, 2 brush cleaning tools, an extra set of the brushes (bristle, side, and beater), an extra set of the AeroVac HEPA filters, and 2 virtual wall Lighthouse modules. The Lighthouse modules require 2 C batteries, which are not included in the box.
According to iRobot, the Roomba 780 removes up to 98% of the dirt, pet hair, and dust in your room. Roombas navigate using what is now called iAdapt technology, which is the traditional Roomba way of cleaning a room by crossing a room in random directions, doing wall-following behavior, and also spiraling. If you watch a Roomba, it really will get every single spot on a floor before it's done. The engineers at iRobot have made sure of that. The vacuum will also get places that may be hard to reach with a traditional vacuum, be it upright or tank style. Finally, Roombas have dirt detect technology, which makes it so that the robot will find the dirty areas of your floor and spend extra time cleaning them up.
The included Lighthouses keep the robot in one room until the Roomba has finished cleaning it, at which point they will let the vacuum procced to the next room. It's a clever way to get your whole house clean with as little intervention as possible.
We've tested the Roomba 780 against older Roombas, the Neato XV Series robots, and even Mint Robot cleaners, and we really think that the 780 is the number one best robot out there for anybody with carpeted floors. Amazon 780 Product Page Link